Ingredients
4

boneless skinless chicken breasts

1/4 cup

flour

1/2 cup

bread crumbs

1/2 teaspoon

garlic powder

1/4 teaspoon

salt

1/4 teaspoon

black pepper

0.25 teaspoon

oregano

1/4 teaspoon

Italian herbs

1/4 teaspoon

parsley flakes

1/4 cup

, grated parmesan cheese

3 tablespoons

, melted butter

2

egg

1/2 cup

, grated mozzarella cheese

tomato sauce
---
How To8 Steps
Step 1
Preheat oven to 375. Add 3 tablespoons of oil to bottom of glass 13 by 9 baking dish.
Step 2
Using a meat mallet, pound out each chicken breast, until a 1/4 inch thick.
Step 3
In one small bowl beat eggs, set aside. In another bowl add flour, set aside. In another bowl add bread crumbs with melted butter, Parmesan cheese and all your herbs and spices and mix well.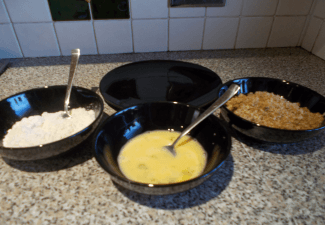 Step 4
Line each bowl up, first flour, then egg, then bread crumb. Have a clean plate ready at the end.
Step 5
Coat chicken breast first in flour, then dredge in egg, and coat with bread crumbs, place on plate. Do this for each chicken breast.
Step 6
Meanwhile heat glass baking dish in oven.
Step 7
Once chicken breasts are all breaded, place them into hot baking dish. Bake for 30 minutes, turning half way through cooking.
Step 8
In last 5 to 10 minutes, top each breast with a table spoon or two of tomato sauce, and sprinkle with mozzarella cheese. Bake until cheese is melted. Serve hot with your favorite pasta.
---