Ingredients
4 slices

, cooked bacon

1 cup

, grated cheddar cheese

4

medium potatoes

2 tablespoons

butter

1/4 cup

, diced green onion
---
How To7 Steps
Step 1
Preheat oven to 350. Line baking sheet with foil.
Step 2
Cook bacon until done. Chop into 1/2 inch pieces. Set aside.
Step 3
Wash potatoes, and stab holes into them with a sharp knife. Wrap each one with a dry paper towel. Place them on a plate, and microwave, turning once, until potato is fully cooked. About 10 minutes.
Step 4
Once potatoes are fully cooked, allow to cool, until able to handle. Remove paper towels, and slice in half length wise.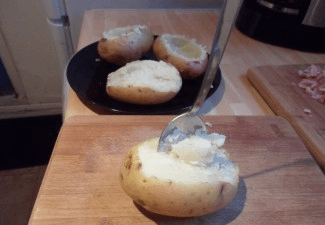 Step 5
Scoop out the center meat of each potato and set aside in bowl. Add butter, bacon bits, 1/2 cup of cheese, and green onion (optional). Mix well.
Step 6
Spoon mixture back into each potato shell, being careful not to break shell. Top with remaining cheddar cheese.
Step 7
Place each potato onto baking sheet, and bake until cheese is melted and slightly browned. About 10 to 15 minutes. Serve with sour cream.
---