Ingredients
1/2 cup

, melted butter

1 cup

self rising flour

1 1/4 cups

granulated sugar

1 cup

milk

2 cups

, room temp blackberries
---
How To7 Steps
Step 1
Combine 1 cup of the sugar with the flour in a mixing bowl. Whisk in the milk.

Step 2
Melt the butter in the microwave and add to the mixture. Mix well.

Step 3
Wash the blackberries well and pat them dry with a paper towel.

Step 4
Pour the mixture into a buttered baking dish. I usually use a 3 quart ceramic baking dish, but really any baking dish will do.

Step 5
Drop the blackberries into the mixture evenly throughout and sprinkle the remaining 1/4 cup of sugar on top.

Step 6
Bake for 1 hour at 350* F.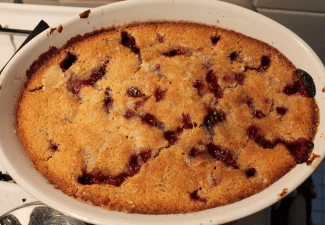 Step 7
Serve warm with vanilla ice cream or whipped cream.

---