Ingredients
1 pound

chicken

2 cups

, frozen mixed vegetables

16 ounces

cream of chicken soup

2

bay leaves

2 teaspoons

garlic powder

1/2 teaspoon

salt

1/2 teaspoon

black pepper

1/2 teaspoon

ground sage

2

pie crust
---
How To8 Steps
Step 1
Preheat oven to 350
Step 2
Place chicken breast into 4 quart sauce pan, cover with cold water. Add bay leaves, garlic powder, salt, pepper. Cover and bring to a boil until chicken is fully cooked and falling apart.
Step 3
Thaw vegetables in cold water, or bring to a boil. Set aside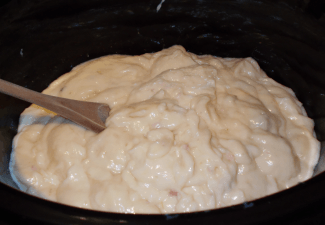 Step 4
In large mixing bowl add soup, thawed vegetables, sage, garlic powder, salt, and pepper to taste.
Step 5
Once chicken is fully cooked, drain water and allow to cool to the touch. Shred chicken into bite size pieces, or cut into cubes, about 1/2 inch cubed. Add to soup mixture and stir well.
Step 6
Fill bottom pie crust with mixture, place on top crust, pinching edges together. Cut 3 to 5 slits in center to allow air to vent. Place small strips of foil around edges for first 40 minutes of baking.
Step 7
Place pie onto a baking sheet lined with foil. Bake for 1 hour at 350, or until golden brown, removing foil on edges at last 15 to 20 minutes.
Step 8
Allow pie to cool for 10 minutes before serving.
---
Chef's Notes
This recipe is so easy to make. I double, and sometimes triple the amounts, and freeze the filling for later dates.
---