Ingredients
1.5 pounds

ground beef

1

egg

1/2 cup

bread crumbs

1/2 cup

, grated cheddar cheese

1 tablespoon

Worcestershire sauce

1/2 teaspoon

garlic powder

1/4 teaspoon

salt

1/4 teaspoon

black pepper

0 pinch

oregano

4

buns

8

, cooked bacon slices

, slices cheddar cheese
---
How To4 Steps
Step 1
In medium size bowl mix together ground beef, egg, bread crumbs, Worcestershire sauce, garlic powder, salt, pepper, oregano, and grated cheddar cheese.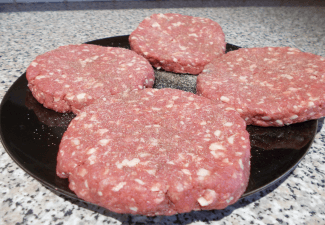 Step 2
Form meat into 4 equal balls. Shape them into patties using your hand.
Step 3
Cook burgers, either on an open BBQ grill, or in the oven, for 25 to 30 minutes, until cooked thoroughly.
Step 4
Top with bacon slices and cheese, Cook until cheese is melted. Serve on buns, with your favorite toppings.
---